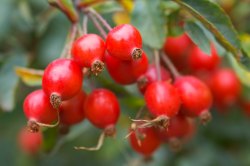 Rose hips's botanical name is rosa canina, meaning "dog rose". The name came about in antiquity, when the roots and berries were thought to cure rabies.
Rosehips provide B-complex vitamins A, D, and E, are high in organic iron and calcium and contain measurable amounts of potassium, sulphur, silica and zinc, as well as fructose and tannins. One ounce of concentrated rose hip contains about as much Vitamin C as a dozen or two oranges.
In Germany, rosehip tea or Hagebutte is a popular tea and is sold everywhere.
The infusion is considered to be a stimulant, a diuretic and a good treatment for diarrhea. It also reinforces immunity to infectious diseases, as it is high in Vitamin C.
Some sources state that this herb is a good blood purifier considered helpful against all infections especially those affecting the bladder or kidney.
This herb also eases stress, battles coughs, colds, the flu and is very nourishing to the skin.