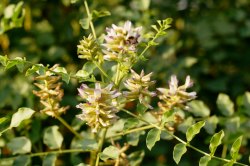 Licorice or Liquorice is the root of the Glycyrrhiza glabra. The word licorice is derived from Greek and means "sweet root".
Licorice tea acts as an expectorant with bronchitis and coughs and can be beneficial as a stomach tonic, helping to reduce excessive acid and produce protective mucus.
Glycyrrhizin found in licorice root is similar to cortisone formed in the adrenal cortex. It is known to be a potent anti-inflammatory, anti-bacterial, and pain reliever. Research has shown licorice is effective in the treatment of hepatitis.
It is not recommended to consume licorice for more than 4 weeks at a time without a two week break.