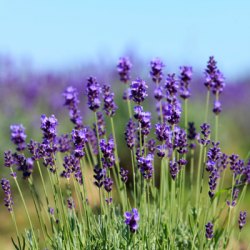 Archaeology indicates that the people of Tibet have harvested Lavender for over a thousand years. It is used by Tibetans for its physically restorative and spiritually uplifting qualities. The herb plays a large part in the meditative ceremonies of certain temples and shrines in Tibet.
Ancient scrolls indicate that Buddhist monks believed Lavender's scent contained elements of comfort, compassion, and wisdom that had the ability to promote a sense of personal peace, stability, and freedom from mental and emotional stress.
Lavender flowers when prepared as a tea or distilled into oil and used to treat ailments ranging from headaches and muscle cramps to dizzy spells.