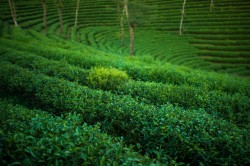 Several weeks before it is harvested, straw mats, thatched roofs or other protective coverings are placed above the tea bushes to mute the springtime sunlight from above. Having become accustomed to abundant sunlight, the plants dramatically increase their levels of chlorophyll (the substance that gives them their green color and collects energy from sunlight) to try to keep their growth rate steady. This natural chemical shift results in a higher level of caffeine, antioxidants, amino acids and other nutrients in the tealeaves.
At the time of harvest, shade-grown leaves could be used for either Gyokuro or further processed into Matcha. The end result is a nuanced, verdant tea that's packed with flavor, low in bitterness and a source of wealth of nutrients (according to many studies).
After Gyokuro's shade-grown leaves are harvested, they are rolled into their characteristic needle-like shape. Once shaped, they are steamed to prevent oxidation and retain their fresh, green flavor. After steaming, the leaves are sorted into various grades by size and shape.
To brew Gyokuro, heat water to a steam (about 140° F or 60° C) and use it to preheat your teapot or other brewing vessel. Discard the water in the brewing vessel, add two level teaspoons for each cup of tea you'd like to prepare, and cover the leaves with more steaming water. Brew for one minute to 90 seconds at most. For optimal flavor, the second infusion should be even shorter than the first.
Unlike most green teas, Gyokuro is intentionally aged for a richer, deeper flavor. It can be stored in a cool, dark area for months or even years to enhance its decadently brothy, vegetal tones.
Brewing Gyokuro
Steep 45 sec - 1 min at 80°C (175°F)