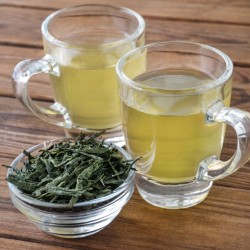 Buddhist scholars and diplomats were the first to bring tea to Japaan. They acquired tealeaves and tea seeds in China and then returned to share political information or religious teachings... and a newfound love of tea. Initially, all Japanese tea was ground into powder and whisked into a frothy brew. This custom was common in China at the time, but later disappeared there. Japanese Matcha was left behind as an example of a lost Chinese tea processing method, but the manner in which it is enjoyed became a distinctly Japanese tradition over the centuries. In recent years, Japanese tea production and consumption has shifted toward loose-leaf teas, including Sencha, Gyokuro, Houjicha, Kukicha and Genmaicha. Today, Sencha makes up about 90 percent of the tea consumed in Japan.
Like most specialty Japanese green teas, Sencha is plucked in the springtime. After harvest, the leaves are rolled into long, narrow, needle-like shapes and then steamed dry to preserve their fresh, green flavor. The processed leaves then are sorted by size and shape into various grades.
The deep green-blue leaves of Sencha range from about an inch long to small particulate created by the breakdown of the leaves during the steaming process.
A little green tea goes a long way, so only use one level teaspoon Sencha per cup of water. Steaming (not bubbling or boiling) water will help you achieve a brew that is enjoyably bittersweet, not harsh or bitter, so be sure to use warm (not hot) water.
One to two minutes of brewing is plenty for a full-flavored infusion. Remove the tealeaves promptly for the best flavor. If you're used to brewing black tea, it will take a few steepings to get used to this style of brewing, but once you've mastered the technique, you'll find it's a great way to make tea on the go.
Brewing Sencha
Steep 45 sec - 1 min at 80°C (175°F)