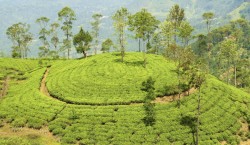 Darjeeling tea is grown at high altitudes and in relatively cool weather which stunts the tea bushes growth, and as such the production is limited.
Darjeeling tea is made from the small leaves of the Chinese variety of tea plant (Camellia sinensis var. sinensis), rather than the large leaves of the Assam tea plant (Camellia. sinensis var. assamica).
According to the Tea Board of India Darjeeling Tea can only refer to tea that has been cultivated, grown, produced, manufactured and processed in tea gardens in the areas of the Darjeeling district in West Bengal, India.
Brewing Darjeeling
Steep 2-3 mins at 90°C (195°F)