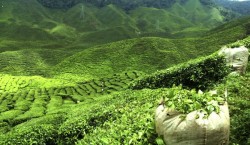 Assam tea is made from the tea plant Camellia sinensis var. assamica unlike China grown teas which are typically from Camellia sinensis var. sinensis.
The region of Assam is the world's largest tea-growing region, its high precipitation, especially during the monsoon period and its high temperatures create greenhouse-like warm and humid growing conditions perfect for tea production.
Assam grown teas are known for thier body, briskness, malty flavour, and strong, bright colour.
Brewing Assam
Steep 2-3 mins at 90°C (195°F)