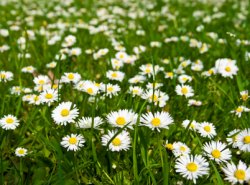 The best Chamomile can be found in the fertile Nile Delta, which has been farmed for as long as 5,000 years or more. Thanks to annual floods that bring river silt full of nutrients and minerals, the land along the region of the world is some of the most productive for a wide-range of crops. Modern damming brought an end to the annual flood more than a century ago, however the area is still highly fertile.
Chamomile Tea Benefits
Chamomile is best know for it's calming and soothing effects. It is often drank before bed to help with falling asleep. The effects of Chamomile Tea are due to chamazulene and alpha-bisabolol in its oil. Chamomile has analgesic, anti-inflammatory, antispasmodic and antibacterial effects. In addition to making tea, chamomile can be used in compresses or added to bathwater.
A good nerve tonic, sleep aid, appetite stimulant, and digestive aid. Relieves the bladder, colds, asthma, colitis, diverticulosis, fever, headaches, hemorrhoids, muscle cramps, and pain. Effective in the treatment of rheumatism, arthritis, worms, and jaundice. [1]
1. Balch, P. A., & Balch, J. F. (2000). Prescription for nutritional healing. New York: Avery.