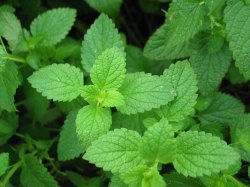 It is believed that Peppermint is a species that evolved from spearmint and watermint. It has been discovered in 3000 year old Egyptian tombs and 2000 years ago the Japanese cultivated peppermint as a source of menthol.
Peppermint tea is made from both the leaves and the flowers. As a hot tea it is cool and refreshing, as an iced tea the menthol content produces a pleasantly cooling taste sensation.
Peppermint is a primary ingredient in remedies used in the relief of gastrointestinal disorders, irritable bowel syndrome, convulsions, headaches (including migraines), and aches. It stimulates liver and gallbladder functions and can help counteract the symptoms of motion sickness.
Quite often peppermint is consumed after meals as the oils stimulate the flow of bile to the stomach and helps relieve gas pains. Additionally, it has been reported and written that peppermint sweetens the breath and calms the digestive system.
True peppermint, Mentha piperita, is a natural source of the essential oil menthol, menthone, methyl acetate, volatile oils, tannic acid, terpenes, and vitamin C.
---
Use for chills, colic, fever, nausea, diarrhea, heart trouble, rheumatism, convulsions, spasms, and headaches.
[1]
1. Balch, P. A., & Balch, J. F. (2000). Prescription for nutritional healing. New York: Avery.