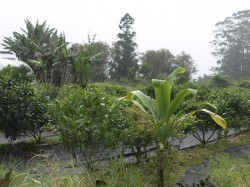 Tealeaves are hand-harvested, then hand-rolled and hand-fired (pan-roasted) in a traditional Chinese fashion for a nuanced, complex flavor profile.
Kilinoe is an amazing introduction to Hawaii-grown tea; a mildly-sweet and fragrant tea that never over-steeps.
One heaping spoon (~2.5grams) per 6 oz of 170'F water. Steep 2-3 minutes for the first infusion and an additional minute for the subsequent infusions.
Brewing Kilinoe
Steep 45 sec - 1 min at 80°C (175°F)