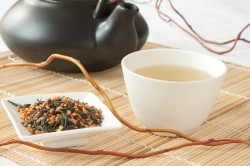 Legend states that during the 1400's a samurai warlord in Hakone on the Izu Peninsula of Honshu Island (the Izu Peninsula is near the Shizuoka area) was drinking tea in the morning while discussing battle strategies with his patrol leaders.
A servant by the name of Genamai was serving tea to the group. While leaning over to pour tea for the warloard, rice from his pocket fell into the steaming cup of tea.
Some of the rice grains popped upon hitting the steaming hot cup of tea. Outraged that his tea has been ruined, the warlord cut off Genamai's head with a swift swoop of his samurai sword.
The warlord then sat to continue his meeting. Regardless of the fact that his tea has been tarnished, he drank it anyway. He was very impressed with the new flavor of the green tea. In honor of Genamai he pronounced that this rice and tea be served every morning and be called "Genmaicha" (cha being the name of "tea" in Japanese).
Genmaicha can be infused up to 3 times, heat water to around 180°F or 90°C, measure one teaspoon and brew up to 3 minutes. The tea leaves do not have to be removed after the first steeping, simply add more hot water after the first cup is enjoyed.
To prepare a teapot, scoop 2-4 teaspoons of genmaicha into the teapot and fill with fresh boiling water and steep for 2-4 minutes before serving.
To make Iced tea, scoop 6 teaspoons of genmaicha into a teapot or heat resistant pitcher. Pour 1-2 cups of freshly boiled water over the tea and steep for 5 minutes. Strain the leaves from the water add ice and water. Sweeten to taste.
Brewing Genmaicha
Steep 45 sec - 1 min at 80°C (175°F)